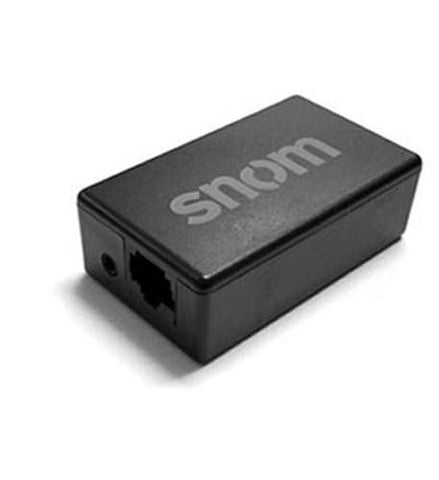 Snom EHS Wireless Headset Adapter for D7xx/3x
Snom wireless headset adapter
Complete freedom of movement
Signaling of ringtone
Call acceptance on headset
Call termination on headset
Perfect integration of firmware
vendor specific EHS protocols
DHSG Standard
No additional power supply required
Easy to connect
SNOWHA
Snom Enhanced Wireless EHS Headset Adapter
The Snom Enhanced Wireless Headset Adapter allows you to use a third party wireless headset system with any of your Snom 3xx, 7xx, or 8xx series phones. The Headset Adapter works as an electronic hook switch so you can answer and end calls while away from your desk.
Snom Enhanced Wireless Headset Adapter Product Overview
In addition to the corded snom headsets, wireless headsets are very popular in professional business environments like, for example, call centers.
The snom Headset Adapter, for the control of wireless headsets is the bridge between professional VoIP telephony and professional wireless headsets.
The snom Headset Adapter has an EHS interface conforming to vendor specific as well as the DHSG standard which enables the electronic reception of calls on the headset itself.
When the phone receives an incoming call the original ringing tone is signaled in the headset and the call can be answered and terminated on the headset.
The snom Headset Adapter has been constructed specifically for the snom 320, 360, 370, 720, 760, 820, and 821 phones. 
Whether it's business usage in large or small enterprises or in call centers - the newly won freedom of movement will pay off immediately.
What's in the box?
Snom EHS Advanced
RJ12-RJ12 (snom 3xx/snom 820 phones & EHS)
RJ45-RJ12 (snom 821/snom 870 & EHS)
RJ45-RJ45 (EHS Advanced - GN Netcom/Jabra base station )
3.5 mm TRS connectors (EHS - Plantronics base station)
***PRODUCT DATASHEET  
---
We Also Recommend
---