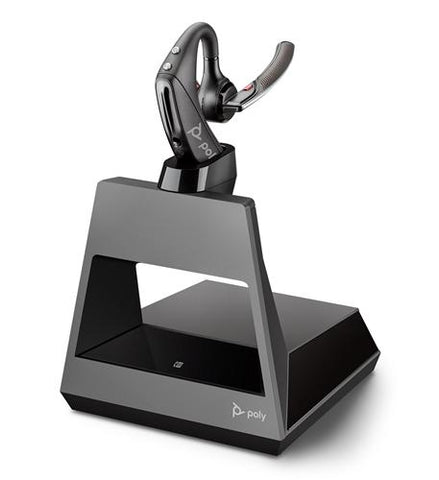 Plantronics Voyager 5200 Office Headset 212722-01
Four-mic noise cancelling
Exclusive WindSmart technology
Comfort-tested design
Smart sensor technology
Caller ID and voice answer
Dedicated voice control button
Extended range
Moisture resistant
Portable charging
Dynamic mute alert
Multi-device cennectivity
USB Bluetooth adaptor
Find with Tile
Plantronics Voyager 5200 Office 1-Way Base Mono Headset (212722-01)
The Plantronics Voyager 5200 Office 1-Way Base includes a Standard Charge Cable and includes the charging base. The Voyager 5200 one-way base connects to your desk phone via telephone interface or EHS cable.
Plantronics Voyager 5200 Office and UC Series Headset Overview
The Plantronics Voyager 5200 Office and US Series sound professional in any type of environment. With six layers of WindSmart technology and four Omni-directional microphones to reduce distracting background noise, you can use this headset anywhere!
The 5200 Series of headsets can be used with a desk phone, PC and Mac. Users can easily switch between the two, as well as with a mobile device (iPhone or Android). Quick touch controls allow you to start or end a call as well as mute yourself. And voice prompts will alert you if you begin talking while your headset is muted. 
The Voyager 5200 Series allows you to talk to the Amazon Alexa app on your mobile with your Bluetooth connected Voyager headset. You can tap-and-ask Alexa to play music, hear the news, check the weather, ask Alexa to make calls and more! 
The Voyager 5200 Series is a one-ear model for users that wish to hear their environment. User's don't have to worry about battery life because a charging base or charging case is included
Plantronics Voyager 5200 Office and UC Series Headset Feature and Specifications
Four-mic noise canceling
Built-in Alexa
Exclusive WindSmart technology
Smart sensor technology
Caller ID and voice answer
Dedicated voice control button
Extended range
Moisture resistant
Portable charging 
Dynamic mute alert
Multi-device cennectivity
USB Bluetooth adaptor4
***PRODUCT DATASHEET  
***CURRENTLY ON MANUFACTURES BACKORDER, CONTACT US FOR ETA
---
We Also Recommend
---