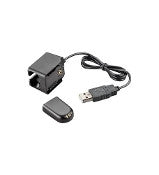 Plantronics USB Deluxe Charging Kit 84603-01 - DISCONTINUED
Deluxe Travel USB Charging Kit for Savi W440, Savi W440-M, Savi W740, Savi W740-M USB Battery Charging Kit (kit includes USB charger and extra battery)Key Features:
Slide the headset into the charging cradle and charge it in the USB port of your PC

May also charge the battery alone without it attached to the headset

Charger has magnetic contacts, so battery stays in charger securely while charging (can even be upside down!)

Charging cradle measures approximately 1 1/4" X 1" X 3/4" tall

This kit is included in the box with W440 & W440-M USB wireless headsets
note: you can replace the battery mid-call, without losing the call, as long as a charged battery is reattached within 5 minutes. This allows for unlimited talk time.
---
We Also Recommend
---