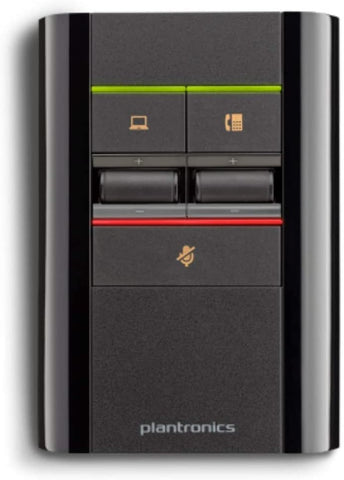 Plantronics MDA 526 QD 6 PINS USB-C audio Processor 212176-01
KEY FEATURES
Audio processor and commutator
Dual connectivity: administer communications from your deskphone and softphone
Improved call quality with white noise/static suppression
Compatible with Encore Pro 500/700 6 pins/QD digital tops 
SoundGuard Digital acoustic protection
Advanced remote controls using Plantronics Management Pro
Switch seamlessly between your desk phone and softphone 

The Plantronics MDA 526 QD 6 Pins USB-C audio Processor is designed to improve the speed of switching between your deskphone and softphone when using a headset. It is an audio processor and commutator, which is compatible with all Encore 500/700 series 6 pin digital tops. Through the smooth integration of mixed call environments, this audio processor works to boost customer experience. It comes with straightforward cal controls and improves customer service representatives (CSRs) training. 
Quick call handling 
By seamlessly integrating mixed call environments, switching between desk phone and softphone calls has never been easier. Therefore, the audio processor allows CSRs to contact more customers from nine-to-five. Thanks to echo and noise suppression, enjoy crystal-clear conversations. What´s more, this device is compliant with Noise @ Work, Anti-Startle and G616. This means that customers can be heard loud and clear. Use Plantronics Hub to configure advanced audio channel mixing. 
Seamless switching 
Spend less time trying to get equipment to work and more time on what´s important - communicating. With the Plantronics QD cable, customer service representatives can move effortlessly between systems. Therefore, the MDA 526 processor helps to improve call efficiency. 
Impressive analytics
Use Plantronics Manager Pro (sold separately) to look at analytics and insights from both desk phones and softphones. Managers can make the most of training opportunities as a means of improving call quality. Furthermore, track headset usage, identify conflicts and acoustic problems. This way, add to your customer service experiences and take advantage of your headsets. 
Features: 
Seamless call switching between desk phones and softphones
Compatible with Encore Pro 500/700 series 6 pin digital tops 
Advanced noise and echo cancellation 
SoundGuard DIGITAL acoustic protection 
Call/answer end, mute and volume
Dimensions: 32.4 x 82.8 x 117.5 mm
Weight: 140g 
Audio mixing: call recording, agent greeting, voice notes, streaming audio 
Quick disconnect (QD) cable 
USB-C computer cable 
***PRODUCT DATASHEET 
---