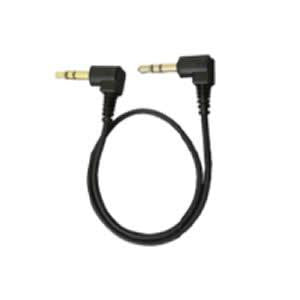 Plantronics EHS Cable for some Panasonic phones 84757-01
Panasonic KX-UT670, KX-UT248, KX-UT136, KX-UT133, KX-DT521, KX-DT543, KX-DT546, KX-NT543, KX-NT546, KX-NT553, KX-NT556, KX-NT560
Plantronics EHS cable for Panasonic VoIP phone models listed below (ehs-cable-01 3.5mm to 3.5mm) with any of the Plantronics CS500-series like Plantronics CS540, Plantronics CS530, Plantronics CS510, and Savi W700-series such as Plantronics Savi W740, Plantronics W730, Plantronics W710 or the Plantronics Voyager Legend CS wireless headset.

Allows for remote electronic call answer/end capability for these specific Panasonic VoIP phone models: Panasonic KX-UT670, KX-UT248, KX-UT136, KX-UT133, Panasonic KX-DT521, KX-DT543, KX-DT546, Panasonic KX-NT543, KX-NT546, KX-NT553, KX-NT556 and Panasonic KX-NT560. No handset lifter needed! This cord has 3.5mm plug on both ends (connects to back of Plantronics wireless headset and to Panasonic VoIP phone at other end).

Please call us for compatibility confirmation, if you are unsure if this is the correct part for your phone.
---
We Also Recommend
---