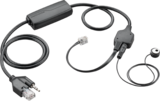 Plantronics Savi EHS Cable APV-63 - 38734-11 (for AVAYA phones)
38734-11 - APV-63 EHS Electronic Hook Switch Cable for Avaya:
Electronic Hook Switches (EHS) communicate electronically with your phone giving your wireless headset answer/end and ring alerts remotely. The use of an EHS cable eliminates the need for an HL10 handset lifter.
(Formerly 38734-01 - APV-62)

Plantronics has several EHS adapter cables, each being unique to specific phone systems. Please confirm compatibility prior to ordering. You can call or email us, we would be happy to help you!
Avaya Phone Compatibility
Avaya Digital Phones - 1408, 1416, 2410, 5410, EU24, 6416D+M, 6424D+M, 9404, 9408, 9504, 9508
Avaya IP Phones -1608, 1608-I, 1616, 1616-I,4630, 9608, 9608G, 9611G, 9620, 9620L, 9620C, 9621G, 9630, 9630G, 9640, 9640G, 9641G, 9641GS, 9650, 9650C, 9670G, J139, J159, J169, J179
---
We Also Recommend
---