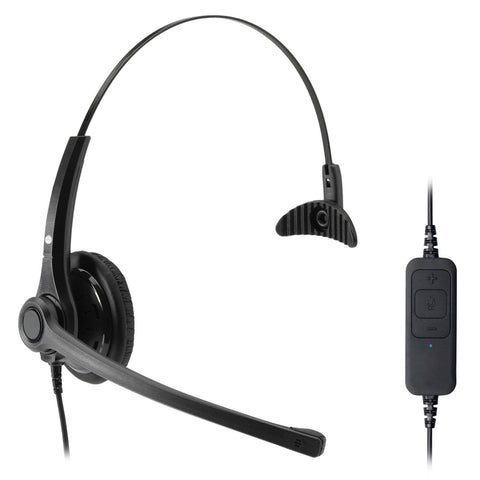 JPL 400M USB MONO Headset for Unified Communications
Universal 'Plug & Play' USB office and contact centre headset. No software download is needed.
JPL-400-USB MONAURAL USB HEADSET
Monaural office and contact center headset with in line controls

Features
Single earpiece allowing users to confer with colleagues
Left / right ear side compatible
270° adjustable microphone boom
Noise cancelling microphone
Wideband enabled speakers
55mm Smooth leatherette ear cushions
Supplied with high speed USB 2.0 connector
Ratchet style 'put and stay' microphone boom
Mid-weight headset, ~ 54g
Sure-fit fully adjustable headband
Headset storage bag, hanging hook and clothing clip included
Acoustic shock protection
Manufactures warranty included
This is a straight corded USB Headset, NO QD on the cord
The JPL-400 is a mid-office and contact center headset with a high speed USB-A direct plug-in with 2.0 transfer rate designed to work with office desk phones and any USB device.
***This headset is very similar to the discontinued Smith Corona Voicelync Mono USB Headsets.
---
We Also Recommend
---