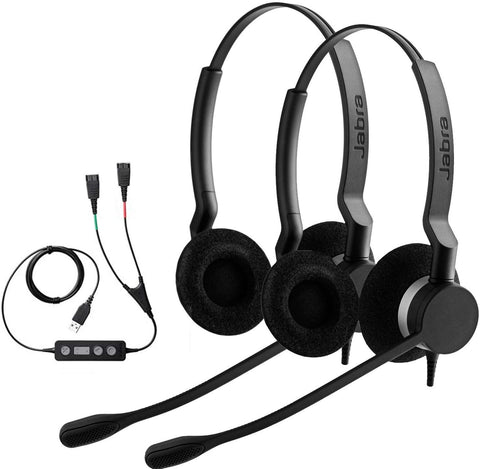 Jabra Soft Phone/Computer USB Training Supervisory Kit, w/Two Jabra Biz 2300 Duo QD Headsets
Bundle of 3 items - Two (2) Jabra Biz 2300 Duo Corded Headsets and Jabra Training Cable

Great sound quality, with noise canceling microphones

Acoustic Shock Protection, against sudden loud noises

Mic Boom arm with 360° rotation for wearability on either ear

Kevlar reinforced cord
2x Jabra Biz 2300 Duo QD Noise Canceling Headsets, and 1x Jabra Link 265 USB Y-Training Cable. This Jabra Link 265 is the only way to allow two Audio Sources to connect to a computer, enabling training via Two Headsets. Plugging the Link 265 into a computer via USB, it allows 2 Jabra QD Corded Headsets to connect via the appropriate QD ends of the Jabra Link 265.

The Jabra BIZ 2300 delivers professional performance at exceptional value. It's the cost-effective headset investment decision that doesn't compromise on quality. Designed for call center use, the Jabra BIZ 2300 increases agent productivity and performance. Its noise canceling-microphone ensures that background noise from your work environment will not be transmitted to your customers' ears.

The headset comes complete with a QD (Quick Disconnect) plug for instant connectivity to a wide range of amplifiers and telephone systems. Simply connect the headset to an adapter cable and you're ready to benefit from the Jabra Biz 2300's high quality at an affordable price point.

The Jabra BIZ 2300 is a binaural (both ears) headset and its multiple adjustment points make it truly adaptable to individual preferences. Its headband wearing style combined with a lightweight design ensures all-day comfort – even in very call intensive environments. The foam cushions have an elevated outer ring for added comfort and deliver an exceptional user experience.
---
We Also Recommend
---