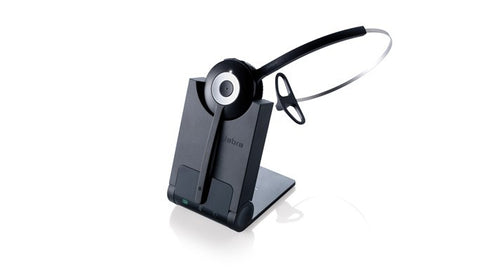 Jabra Pro 935 for Microsoft Lync 935-15-503-185 - DISCONTINUED
Wireless 2G4 Headset for Microsoft Lync
A professional wireless office headset for Microsoft Lync designed for maximum performance

Wireless for everyoneThe Jabra Pro™ 935 headset is a professional wireless headset for Microsoft Lync designed for maximum performance. Now everyone in your office can take advantage of the added productivity and comfort that wireless convenience delivers. Simple, intuitive and high quality, all in one wireless solution.

Full compatibility with Microsoft Lync and SkypeA wireless office headset that provides plug-and-play connectivity and call control with Microsoft Lync and Skype.


Wireless headset for Microsoft Lync with no battery life concernsUp to 12 hours talk time, and 7 days standby time.

Up to 100 meters / 300 feet hands-free communication for Microsoft Lync2G4 Wireless connection from base to headset enabling enhanced mobility up to 100 meter/300 feet for your Microsoft Lync solution.

Enterprise Wireless Management2G4 Digital Wireless Telephony technology to improve performance in office environments with deployment of a large number of wireless headsets in limited space.
---
We Also Recommend
---