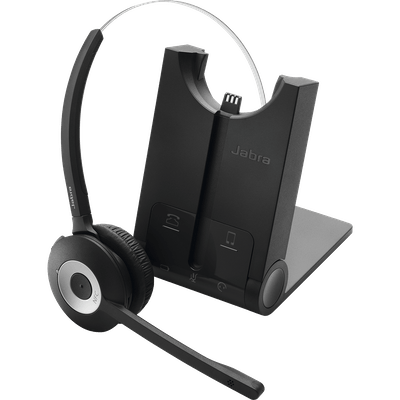 Jabra Pro 925 Dual Connectivity Wireless Headset 925-15-508-205
Bluetooth Headset for all your devices
A professional wireless Bluetooth office headset for desk phones, smartphones and tablets designed for maximum performance.

Wireless for everyoneThe Jabra Pro™ 925 Dual Connectivity headset is a professional Bluetooth headset designed for maximum performance. Now everyone in your office can take advantage of the added productivity and comfort that wireless convenience delivers. Simple, intuitive and high quality, all in one wireless solution.
A wireless Bluetooth headset with Dual ConnectivityConnect the wireless headset with your Desk phone and your Bluetooth devices at the same time. Up to 100 meter range from the base to the headset and from the headset to your Bluetooth Class 1 supported devices.
Wireless telephone headset with no battery life concernsUp to 12 hours talk time, and 7 days standby time.
The wireless office headset for hot desking. Use your wireless headset for hot desking. Connect to any Jabra Pro 925 base in the office.

Tap to ConnectNear Field Communication technology (NFC) makes it easy for your Jabra device to instantly connect and interact with smartphones and tablets. It requires no more than a simple touch.
PRODUCT DATASHEET    
---
We Also Recommend
---